Nylon Holder for ARTAX Flashlight | LHNA-01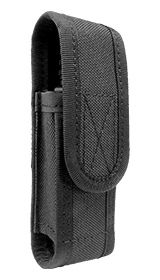 On stock
nylon holder for ARTAX tactical flashlight ● flap equipped with a Velcro prevents loss and damage of the flashlight ● nylon loop with a Velcro for comfortable carrying on a belt
Price / 1 pc in this shop:
€ 16,50 VAT included
Price / 1 pc if you buy at least 2 pcs (discount 9%):
€ 15,02 VAT included
This nylon holder serves for carrying of ARTAX tactical flashlight, which is perfectly protected from loss and damage. Tiltable flap is equipped with a Velcro seal. Thanks to it, the flashlight can be quickly pull out from the holder with just one hand.
For comfortable carrying on the belt you will find a nylon loop with Velcro on the back. The advantage of this solution is that you don't have to unbuckle the belt when putting on the holder.
Weight 39 g.