Metal Clip and Hand Strap for Expandable Batons

We can supply to expandable batons of the type ExB also additional hand strap. This strap can be easily inserted under the screw-on ending. The baton can be thus used with or without this hand strap - as needed.
It can be used also with additional flashlight for expandeble baton BL-01 or BL-02.
Price / 1 pc in this shop:
€ 3,60 VAT included
Price / 1 pc if you buy at least 2 pcs (discount 9%):
€ 3,28 VAT included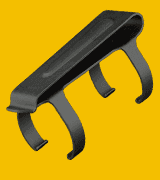 This metal clip enables concealed carrying of the expandable baton on the belt outside or inside trousers or on a tactical vest.
This clip is designed for use with ESP hardened batons with a rubber grip only. The clip is not designed for being removed from the baton and put back on repeatedly.
Price / 1 pc in this shop:
€ 4,16 VAT included
Price / 1 pc if you buy at least 2 pcs (discount 9%):
€ 3,79 VAT included