Metal clip for concealed carrying of expandable baton | BC-01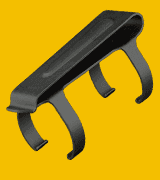 This metal clip enables concealed carrying of the expandable baton on the belt outside or inside trousers or on a tactical vest.
This clip is designed for use with ESP hardened batons with a rubber grip only. The clip is not designed for being removed from the baton and put back on repeatedly.
Price / 1 pc in this shop:
€ 4,16 VAT included
Price / 1 pc if you buy at least 2 pcs (discount 9%):
€ 3,79 VAT included
Product is temporarily not available.