Duty Belts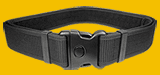 extremely durable material ● hemmed edges ● plastic bracing on the inside ● Velcro lining on the inner side ● width 50 mm ● robust plastic three-point buckle ● available in black color
More variants, price from:
Price / 1 pc in this shop:
€ 35,75 VAT included
Price / 1 pc if you buy at least 2 pcs (discount 9%):
€ 32,54 VAT included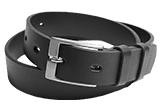 This elegant leather belt from quality hide has been hand-crafted by experienced leathersmiths. The cow hide with the thickness of 3,5 mm is very solid and perfectly resists any damage or moisture. The belt has the width of 3,5 cm.
The elegant look of the belt is enhanced by the buckle in silver color. The belt has 6 holes with 35 mm in between them. There are two straps to hold the loose end of the belt – one is fixed while the other can be moved according to need.
More variants, price from:
Price / 1 pc in this shop:
€ 29,90 VAT included
Price / 1 pc if you buy at least 2 pcs (discount 9%):
€ 27,21 VAT included