Universal swiveling holder for various defensive sprays (50–63 ml) | SHU-54-50.63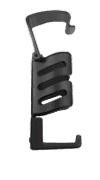 On stock
Universal swiveling plastic holder is determined for professional use. It enables very fast drawing of a defensive spray sideways from the holder. Moreover, it contains a safety catch, which holds the spray head firmly in the holder.
This type of holder is equipped with UBC-05 belt clip. The belt is pulled through the opening in the body of the clip. The holder is then slid onto the clip and secured with locking mechanism.
The holder can be smoothly rotated in the range of 360 degrees without the use of any tool (there are 16 possible fixed positions).
The clip can be adjusted to the belt width from 32 to 60 mm by an adjustable stop with two screws.
The holder SHU-54-50.63 is designed for various defensive sprays with vessel diameter from 35 to 38 mm and it is adjustable for the sprays with volume from 50 up to 63 ml.
Price / 1 pc in this shop:
€ 17,86 VAT included
Price / 1 pc if you buy at least 2 pcs (discount 9%):
€ 16,26 VAT included