Nylon Holder for ESP Rescue Knife | RKH-01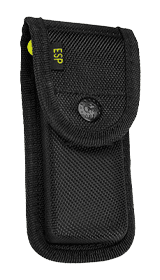 On stock
holder for any type of ESP rescue knife ● flap equipped with a Velcro seal and a snap fastener prevents loss of the knife ● you can carry this holder on a belt
Price / 1 pc in this shop:
€ 12,15 VAT included
Price / 1 pc if you buy at least 2 pcs (discount 9%):
€ 11,06 VAT included
This nylon holder serves for carrying of ESP Rescue Knife. Tiltable flap equipped with a Velcro seal and a snap fastener prevents loss of the knife. And in case of necessity, it enables quick pulling out of the knife with one hand only.
You can fasten the holder to a belt thanks to the nylon strap, which is located on the back side of the holder.
You can carry in this holder ESP Rescue Knife of the type RK-01, as well as RK-02 Knife with a rounded blade tip.