Duralumin flashlight with 14 LED diodes | MAGNUM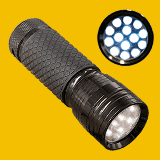 On stock
Duralumin flashlight with 14 LED diodes and durable moisture resistant body. It gives high intensity light with wide rays. The switch is at the bottom of the flashlight.
It has rubber coated handle and unbreakable frontal polycarbonate glass. Colour: black.
Power supply is ensured by 3 pcs of alkaline batteries AAA, which are already included in the price of the flashlight!
Price / 1 pc in this shop:
€ 10,90 VAT included
Price / 1 pc if you buy at least 2 pcs (discount 9%):
€ 9,92 VAT included
Dimensions:
length: 109 mm
diameter: 30 / 34 mm
weight (including batteries): 126 g