Police riot shield – universal (held in left or right hand) | ASRU-60-100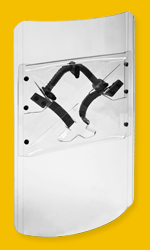 On stock
This impact resistant police shield is made of high-quality, extremely resistant polycarbonate with thickness 3 mm. Its front face has rounded shape without any vertical edges (only difference from the type ASU-60-100). Inner ergonomically shaped reinforcing plate dampens efficiently impacts and vibrations on holding hand. The holders can be held by right or left hand. V-shaped form of the shield conducts blows efficiently aside.
The price does not include the inscription on the shield and baton holder! Price of the baton holders (2 sets) is X EUR. Price of the inscription depends on extent of the text.
Width is 570 mm, height 1 000 mm, weight 3,65 kg.
Pro bezpečnostní složky a při odběru většího množství je možno domluvit podstatnou slevu.
Price / 1 pc in this shop:
€ 181,80 VAT included
Price / 1 pc if you buy at least 2 pcs (discount 9%):
€ 165,44 VAT included