Polycarbonate police tonfa with nylon holder | TR-24-PC+TR-02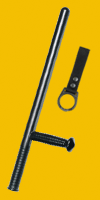 On stock
standard round tonfa ● made of high strength polycarbonate ● designated especially for professional use ● delivered with a nylon holder
Price / 1 pc in this shop:
€ 27,00 VAT included
Price / 1 pc if you buy at least 2 pcs (discount 9%):
€ 24,57 VAT included
This standard round tonfa was developed in cooperation with police experts and it is designated especially for professional use by police units and security agencies. It is made of high quality and high strength polycarbonate.
The tonfa has many improved features, which increase the confidence of the police officer in his or her self-defense (quality of grip, firmness, etc).
This tonfa is delivered with a nylon holder of the type TR-02.
Length: 23,2ʺ / 59 cm

Weight: 610 g