Universal plastic holder with metal clip for different defensive sprays (40 ml) | SHU-64-40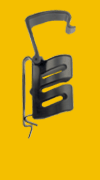 On stock
Universal plastic holder is determined for professional use. It enables very fast drawing of the defensive spray sideways from the holder. It contains moreover a safety catch, which holds the spray head firmly in the holder.
This type of holder is equipped with metallic clip, which enables its rapid insertion on a belt (without necessity of unbuckling it) or to a tactical vest.
The holder SHU-64-40 is designated for different defensive sprays with volume of 40 ml and it can contain sprays with vessel diameter from 35 to 38 mm.
Price / 1 pc in this shop:
€ 10,90 VAT included
Price / 1 pc if you buy at least 2 pcs (discount 9%):
€ 9,92 VAT included