Police tonfa with nylon holder | TF-24/59+TF-01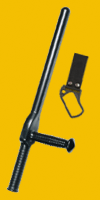 On stock
special flat surface protecting the hand against a strike ● designated especially for professional use ● it has received a quality certificate ● made of highly resistant polypropylene ● delivered with a nylon holder
Price / 1 pc in this shop:
€ 11,05 VAT included
Price / 1 pc if you buy at least 2 pcs (discount 9%):
€ 10,06 VAT included
This tonfa has a special flat surface protecting the hand against a strike and during self-defense it helps spread the hitting power to a larger area. It was developed in cooperation with police experts and it is designated especially for professional use by police units and security agencies.

The tonfa is made of highly resistant polypropylene and has many improved features, which increase the confidence of the police officer in his or her self-defense (quality of grip, firmness, etc). It has received a quality certificate issued by testing laboratory at ITC Zlín, Czech Republic.
This tonfa is delivered with a nylon holder of the type TF-01.
Length: 23,2ʺ / 59 cm

Weight: 510 g