Kubotan | KBT-01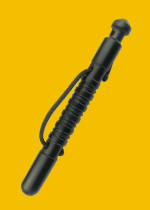 On stock
inconspicuous means of defence ● made from tough plastic material ● significantly enhances defence abilities of the users ● can be used for hits, for pressures on the nerve points or for levers ● central part is knurled, which prevents slipping of kubotan from your palm ● it has an eye for hanging on a keyring ● supplied with a string allowing its fixation to 2 or 3 fingers
Price / 1 pc in this shop:
€ 4,50 VAT included
Price / 1 pc if you buy at least 2 pcs (discount 9%):
€ 4,10 VAT included
Inconspicuous means of defence, also known as palm-stick, yawara, pasak or dulodulo, is made from tough plastic material and it significantly enhances defence abilities of the users. Kubotan can be used for hits, for pressures on the nerve points or for levers. Its central part is knurled, which prevents slipping of kubotan from your palm. At the end it has an eye for hanging on a keyring.
Kubotan is supplied with a string allowing its fixation to 2 or 3 fingers, so that it remains in your hand when you need to grab the attacker. The length of the strings can be set according to the user's specification.
Length 155 mm, diameter 15 mm, weight 30 g.