Holder for the bolt cutter | BCTH-01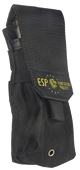 On stock
special nylon holder for the bolt cutter BCT-01 ● tiltable flap equipped with fixing Velcro straps ● protects the user from the sharp edge of the bolt cutter ● rear part is equipped with reinforced straps ● can be placing on service belt or the MOLLE system
Price / 1 pc in this shop:
€ 11,80 VAT included
Price / 1 pc if you buy at least 2 pcs (discount 9%):
€ 10,74 VAT included
This special
nylon holder
serves for storage of the bolt cutter for the expandable baton
BCT-01.
Top
tiltable flap
equipped with fixing Velcro straps
protects the user
from the sharp edge of the bolt cutter
during transport.
Rear part of the holder is equipped with reinforced straps and it is accommodated for placing the whole set both on service belt, or on tactical vest equipped with the MOLLE system.