Cutter for expandable baton | BCT-01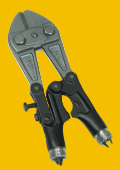 On stock
comparatively compact accessory ● can be easily placed also on service vest ● when combined with two expandable batons, it creates very quickly a fully operational cutter ● worthful aid at many interventions, military or rescue actions ● the maximum diameter of wire (non-hardened) it can cut is 6 mm
Price / 1 pc in this shop:
€ 56,35 VAT included
Price / 1 pc if you buy at least 2 pcs (discount 9%):
€ 51,28 VAT included
Cutter for expandable baton represent comparatively compact accessory, which can be easily placed also on service vest. When combined with two expandable batons, which are now more and more frequently available even in ordinary two-member patrol, it creates very quickly a fully operational cutter, which would be otherwise too heavy and encumbering to be taken to action. It serves as worthful aid at many interventions, military or rescue actions. It can help for example to make a passage through high fence or to overcome an obstacle made of barbed wire. The maximum diameter of wire (non-hardened) it can cut is 6 mm.
Mass without batons is 640 g, length 185 mm.
WARNING!
This cutter can not be used, under any circumstances, for cutting of the metal sheet!