Pepper spray POLICE JET 100 ml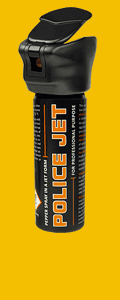 18+
On stock
defensive spray
designed for professional purpose
●
volume 100 ml
●
cover lid
prevents unwanted release of the spray
●
n
on-inflammable content of spray
●
spray has JET character
●
shooting range is approx. 4 m
Price / 1 pc in this shop:
€ 21,70 VAT included
Price / 1 pc if you buy at least 2 pcs (discount 9%):
€ 19,75 VAT included
Pepper spray with a volume of 100 ml is designed for professional purpose.
The spray head is equipped with a
cover lid
which prevents unwanted release of the spray.
Non-inflammable content of spray meets the requirements to pepper sprays used by police forces (certificate according to the German standard), such as guaranteed interval of working temperatures from -20 °C to +50 °C, harmlessness, etc. Content of the spray vessel is manufactured by the renown brand German company and its composition is identical to that used by the German police.
Spray has character of JET with small drops, that's why it is less susceptible to dispersion by possible mild wind. Shooting range is approx. 4 m.
Volume: 100 ml
Diameter of vessel: 40 mm
Height: 160 mm
Weight: 149 g
Instructions for use:
When in danger, point the spray nozzle at the aggressor at the distance of 1–3 m and press the button several times in short intervals for approx. 1 second (in direction of wind). Never use against direction of wind. Do not use in small or bounded space (such as lift or car) and in a distance less than 1 m, since this may endanger health of the user himself. Hitting the attacker's face causes intensively sore eyes and cough. The attacker is disoriented for approx. 30 minutes.
Attention:
The defensive spray is designed for self-defence only. Its misuse is prosecuted. The spray may not be used against children, pregnant women, old and ill persons. Device can be sold only to persons older than 18 years.
Warning:
Causes skin irritation. Causes serious eye irritation. May cause respiratory irritation. Avoid contact with skin and eyes. Keep container in a well-ventilated place. Do not breathe spray. Keep out of the reach of children. Keep away from heat, hot surfaces, sparks, open flames and other ignition sources. No smoking. Pressurized container: Do not pierce or burn, even after use. Protect from sunlight. Do not expose to temperatures exceeding 50 °C / 122 °F.
First aid:
IF IN EYES: Rinse cautiously with water for several minutes. Remove contact lenses, if present and easy to do. Continue rinsing. IF ON SKIN: Wash with plenty of water and soap. Do not use creams, ointments and oils. In case of accident by inhalation: remove casualty to fresh air and keep at rest. If the problems persist even after 1 hour, seek immediate medical advice. If swallowed, seek medical advice immediately and show this container or label.
30% by mass of the contents are flammable. Date of expiration at the bottom.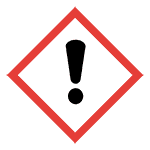 Warning