Multi-functional handle for baton accessories | AH-01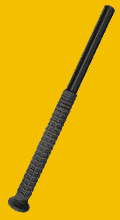 On stock
thanks to this handle you can use numerous accessories for ESP expandable baton even without use of the baton ● the same thread at both ends of handle ● you can create a whole range of tools that will absolutely suit your needs

Price / 1 pc in this shop:
€ 22,40 VAT included
Price / 1 pc if you buy at least 2 pcs (discount 9%):
€ 20,39 VAT included
This multi-functional handle makes it possible to use numerous accessories for expandable baton in case you don't own the expandable baton at this moment or you are not for some reason able to use it. Combination of this handle with various accessories makes it possible to create very easily and quickly a whole range of tools suitable for example for motorists or rescue teams.
The handle has the same thread at both ends, which enables mounting of the whole series of accessories, such as:
BL-01, BL-02 or BL-03 flashlight,
BS-01 shovel,
BCB-01 crowbar,
BE-03 hammer,
BE-04 or BE-05 ending with a a hidden spike,
It can be used also as the second handle for the BCT-01 bolt cutter.