Swivelling holder for HK MP5 / UZI magazine | MH-14-MP5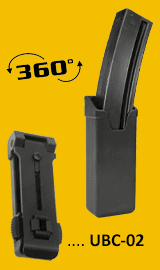 On stock
equipped with UBC-02 fixation clip ● can be rotated in respect to the belt by full circle of 360 degrees ● self-locking design with the fixation spring ● for 9mm magazine for police submachine gun HK MP5 and UZI ● also support the magazines for AR15 rifles (9 mm Luger) or handguns with the caliber .45 AUTO and .40 SW ● unique construction enables a quick drawing of the magazine ● made of extremely resistant plastic ● designated for professional use
Price / 1 pc in this shop:
€ 20,90 VAT included
Price / 1 pc if you buy at least 2 pcs (discount 9%):
€ 19,02 VAT included
Self-locking swivelling
holder is designated for very convenient placement of a back-up magazine for 9mm police submachine gun
HK MP5
and
UZI.
The holder can also support the magazines for rifles of the type
AR15
(9 mm Luger) or handguns with the caliber
.45 AUTO
and
.40 SW.
The sophisticated design with the fixation spring enables a very quick drawing of the magazine. The holder is made of extremely resistant plastic and it is designated for professional use. Color: black.

This type of holder is equipped with flat quick-coupling clip which enables rapid insertion of the holder on a belt with one hand only and without necessity of unbuckling the belt. In comparison with fastening clip UBC-01, the distance between the belt and the holder is smaller with this type of clip. The holder can be rotated in respect to the belt by full circle of 360 degrees with 16 locking positions. It can be fastened also to a MOLLE webbing.