Swiveling holder for expandable baton | BHU-54 / BHU-55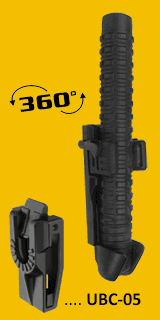 On stock
equipped with UBC-05 universal belt clip ● can be rotated by full circle of 360 degrees ● very quick drawing of the baton by tilting it ● safety lock prevents dropping of the baton ● you can insert an expanded baton into the holder ● made of extremely resistant plastic ● designated for professional use
| | |
| --- | --- |
| Price / 1 pc in this shop: | € 22,95 VAT included |
| Price / 1 pc if you buy at least 2 pcs (discount 9%): | € 20,89 VAT included |
The unique construction of this
swiveling
holder facilitates
very quick drawing
of the baton by tilting it with one hand. It also includes a
safety lock
which prevents the unexpected dropping of the baton.
The holder makes it possible to insert an expanded baton into the holder when the user needs to free his or her hand for another activity.
The holder is made of extremely resistant plastic and it is designated for professional use. Color: black.
UBC-05 universal belt clip
The holder is equipped with universal UBC-05 belt clip. This clip enables the user to quickly change between different plastic and nylon ESP holders with rotation mechanism. The clip itself remains fastened to the belt – you only need to click on the holder of choice.

Thanks to this highly flexible system, the user is able to change his or her equipment according to the particular needs at a given moment. A baton holder can be switched for a flashlight holder or for a magazine holder. In case of need – for example when the police officer is busy with administrative work – the holders that are currently not necessary can be put away completely.

The belt is pulled through the opening in the body of the clip. The holder is then slid onto the clip and secured with locking mechanism. The clip can be adjusted to belt width from 32 mm to 60 mm with the use of an adjustable stop with two bolts. The holder can be rotated in respect to the belt by full circle of 360 degrees with 16 locking positions.