Swiveling holder for defensive spray | SH-44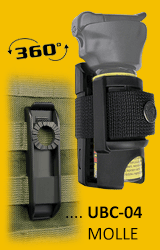 On stock
equipped with fixation clip UBC-04 (MOLLE) ● the holder enables a smooth rotation of the carried spray by full circle of 360 degrees ● for different defensive sprays with vessel diameter of 35 mm ● enables a quick drawing of the spray ● made of extremely resistant plastic ● designated for professional use
Price / 1 pc in this shop:
€ 12,00 VAT included
Price / 1 pc if you buy at least 2 pcs (discount 9%):
€ 10,92 VAT included
Swiveling holder is designated for carrying of different defensive sprays and TORNADO spray flashlights with vessel diameter of 35 mm. It enables quick drawing of the spray from the holder. The holder is made of extremely resistant plastic and it is designated for professional use. Color: black.
This type of holder is equipped with fixation clip UBC-04-1. This type of clip allows secure and firm fixation of holder to a MOLLE webbing. This holder can be attached to any present-day tactical/ballistic vest or tactical backpacks. The holder can be rotated in respect to the belt by full circle of 360 degrees with 16 locking positions.