Double swiveling holder for two 9mm magazines | MH-MH-44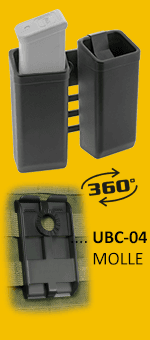 On stock
equipped with fixation clip UBC-04 (MOLLE) ● the holder enables a smooth rotation of the carried magazines by full circle of 360 degrees ● this solution saves the space on a MOLLE gadget ● for carrying of broader range of double stack magazines 9mm Luger ● self-locking design with fixation spring ● unique construction enables a quick drawing of the magazine ● made of extremely resistant plastic ● designated for professional use
Price / 1 pc in this shop:
€ 25,80 VAT included
Price / 1 pc if you buy at least 2 pcs (discount 9%):
€ 23,48 VAT included
Double swiveling holder consists of two MH-44 holders connected by special adaptor. Advantage of this solution consists in saving the space on a MOLLE gadget. Both holders rotate in respect to the belt simultaneously, while their mutual position remains unchanged.

It is designated for carrying of broader range of double stack magazines 9mm Luger for the most frequently used service guns used all over the world – such as Glock, SIG Sauer P226/P229, SW MP9, Beretta M9, Taurus 92/99, CZ 75 Compact, Grand Power K100, Walther P99...
The sophisticated design of the fixation spring, which enables a quick drawing of the magazine, will be appreciated not only by armed forces members, but also by shooters of action SHOOTING disciplines.
The holder is made of extremely resistant plastic and it is designated for professional use. Color: black.
This type of holder is equipped with fixation clip UBC-04-1. This type of clip allows secure and firm fixation of holder to a MOLLE webbing. This holder can be attached to any present-day tactical/ballistic vest or tactical backpacks. The holder can be rotated in respect to the belt by full circle of 360 degrees with 16 locking positions.