Double swiveling holder for two 9mm magazines | MH-MH-54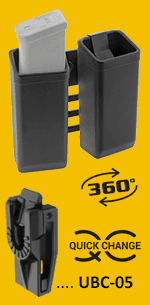 On stock
equipped with UBC-05 fixation clip ● both magazines are rotated in respect to the belt by full circle of 360 degrees ● this solution saves the space on the belt ● for carrying of broader range of double stack magazines 9mm Luger ● self-locking design with fixation spring ● unique construction enables a quick drawing of the magazine ● made of extremely resistant plastic ● designated for professional use
black color
Price / 1 pc if you buy at least 2 pcs (discount 9%):
€ 22,85 VAT included
khaki (coyote tan)
Price / 1 pc if you buy at least 2 pcs (discount 9%):
€ 25,67 VAT included
olive drab
Price / 1 pc if you buy at least 2 pcs (discount 9%):
€ 25,67 VAT included
Double swiveling holder consists of two MH-54 holders connected by special adaptor. Advantage of this solution consists in saving the space on the belt. Both holders rotate in respect to the belt simultaneously, while their mutual position remains unchanged.

It is designated for carrying of broader range of double stack magazines 9mm Luger for the most frequently used service guns used all over the world – such as Glock, SIG Sauer P226/P229, SW MP9, Beretta M9, Taurus 92/99, CZ 75 Compact, Grand Power K100, Walther P99...
The sophisticated design of the fixation spring, which enables a quick drawing of the magazine, will be appreciated not only by armed forces members, but also by shooters of action SHOOTING disciplines.
The holder is made of extremely resistant plastic and it is designated for professional use. Color: black.
The holder is equipped with universal UBC-05 belt clip. This clip enables the user to quickly change between different plastic and nylon ESP holders with rotation mechanism. The clip itself remains fastened to the belt – you only need to click on the holder of choice.

Thanks to this highly flexible system, the user is able to change his or her equipment according to the particular needs at a given moment. A magazine holder can be switched for a flashlight holder or for a baton holder. In case of need – for example when the police officer is busy with administrative work – the holders that are currently not necessary can be put away completely.

The belt is pulled through the opening in the body of the clip. The holder is then slid onto the clip and secured with locking mechanism. The clip can be adjusted to belt width from 32 mm to 60 mm with the use of an adjustable stop with two bolts. The holder can be rotated in respect to the belt by full circle of 360 degrees with 16 locking positions.