Leather Holder for ESP Rescue Knife | RKHL-01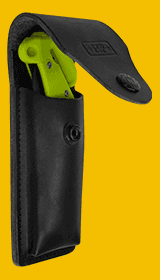 On stock
holder for any type of ESP rescue knife ● hand-crafted from quality cow hide ● perfectly resists any damage or moisture ● tiltable flap with a snap fastener prevents loss of the knife ● metal clip enables carrying of the holder on a belt or on a tactical vest
Price / 1 pc in this shop:
€ 31,35 VAT included
Price / 1 pc if you buy at least 2 pcs (discount 9%):
€ 28,53 VAT included
This holder for ESP Rescue Knife has been hand-crafted from quality cow hide. This type of hide is very solid and perfectly resists any damage or moisture.
Tiltable flap equipped with a snap fastener prevents loss of the knife. And in case of necessity, it enables quick pulling out of the knife with one hand only.
Flexible metal clip, which is located on the back side of the holder, enables its rapid insertion on a belt (without the necessity of unbuckling it). Thanks to this clip the holder can be attached also to a tactical vest.
You can carry in this holder ESP Rescue Knife of the type RK-01, as well as RK-02 Knife with a rounded blade tip.