HELIOS 3 ULTRAZOOM tactical flashlight with charging adapter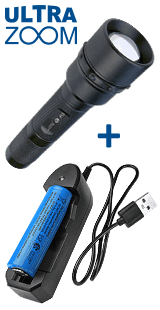 On stock
ZOOM function allows re-focusing between narrow and wide light beam ● Cree LED chip with 3W performance ● luminosity of up to 200 lm ● it can withstand rough handling ● made from highly resistant duralumin ● grooved rubber head ring prevents rolling of the flashlight ● tactical metal switch
flashlight is powered by the 18650 type rechargeable battery ● package includes a charging adapter which can be connected to a charger from a regular smartphone ● can also be powered by 2 pcs of non-rechargeable battery CR 123A
You can order the flashlight with 1 mode of lighting (full output only) or with 4 modes of lighting:
100 %  /  50 %  /  10 %  /  stroboscope.
Price / 1 pc in this shop:
€ 55,95 VAT included
Price / 1 pc if you buy at least 2 pcs (discount 9%):
€ 50,92 VAT included
Tactical flashlight with a ZOOM function is fitted with a special lens that allows re-focusing between narrow and wide light beam. When narrow cone of light is used, it illuminates a surface with diameter of only 60 cm at a distance of 10 m! Cree LED chip with 3W performance, used in this flashlight, ensures the luminosity of up to 200 lm.
The flashlight is made from highly resistant duralumin and it can withstand rough handling. Grooved rubber head ring prevents rolling of the flashlight on smooth surface.
The metal switch is placed at the end of the flashlight. The switch is tactical – it can be pressed lightly for momentary output (lasting only through the duration of the pressure) or it can be pressed fully, switching the flashlight into constant output.
A swivelling holder of the type LHU or LH is available for comfortable carrying of the flashlight.
The flashlight is powered by the 18650 type rechargeable battery which can be charged in the adapter with micro USB connector. The adapter can be connected to a charger from a regular smartphone with the micro USB connector (this charger is not part of the package) or – using the cable supplied with the flashlight – the battery in the adapter can be charged from a PC or a laptop.
The flashlight can also be powered by 2 pcs of non-rechargeable battery CR 123A in combination with the plastic insert (incl. in the package) which compensates for the smaller diameter of the battery. This can be very useful as a back-up power source.
We deliver the flashlight with 1 mode of lighting (full output only) or with 4 modes of lighting:
100 %,
50 %,
10 %.
stroboscope.
You can select the desired mode by pressing the switch quickly several times when turning the flashlight on. If you switch the flashlight off for more than 2 seconds, it defaults to switching on in the 100% performance mode.
Package includes:
HELIOS ULTRAZOOM flashlight
18650 rechargeable battery
charging adapter
micro USB cable
plastic insert for CR 123A batteries

Dimensions:
head diameter 37 mm
body diameter 25 mm (at the handle)

length 137 mm
weight 164 g (including batteries)