Swiveling holder for expandable baton (21″, 23″ or 26″) | BH-35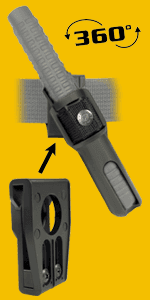 On stock
equipped with UBC-03 belt clip ● can be rotated by full circle of 360 degrees ● for the batons of the length 21″, 23″ or 26″ ● enables fast drawing of the baton just with one hand ● you can insert an expanded baton into the holder ● made of extremely resistant plastic ● designated for professional use
Price / 1 pc in this shop:
€ 9,50 VAT included
Price / 1 pc if you buy at least 2 pcs (discount 9%):
€ 8,65 VAT included
Swiveling holder with patented construction is designed for the expandable batons of the length 21″, 23″ or 26″. It enables fast drawing of the baton from the holder just with one hand, since thanks to automatic opening of the holder after unfastening of nylon strap there is almost no friction.

The holder with unfastened nylon strap makes it possible to insert an expanded baton into the holder when the user needs to free his or her hand for another activity. The holder is made of extremely resistant plastic and it is designated for professional use.
UBC-03 belt clip
This type of holder is equipped with UBC-03 belt clip. The holder is inserted in usual way by slipping the belt through the hole in the clip. The clip can be adjusted to the belt width by adjustable stop with two bolts.
The holder can be rotated in respect to the belt by full circle of 360 degrees with 16 locking positions.