Retractable holder (roller) for the HURRICANE self-defense spray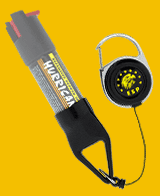 On stock
facilitates comfortable carrying of the HURRICANE spray ● retractable string of the length of 95 cm ● metal snap-hook and clip on its back ● spray can be easily attached to your clothes, to your bag or to your purse ● holder can be used with sprays of different brands with the can diameter of 22 mm
Price / 1 pc in this shop:
€ 3,55 VAT included
Price / 1 pc if you buy at least 2 pcs (discount 9%):
€ 3,24 VAT included
This holder with a retractable string facilitates comfortable carrying of the HURRICANE spray, making it always readily available. It can be attached to almost anything thanks to the metal snap-hook and clip on its back – to your clothes, to your bag or to your purse. The spray will not get lost among other items and will always be in the same spot from which you can immediately take it and use it in the case of an emergency. An ideal solution for your sport activities or walking in the city.
It's almost impossible to lose the spray with this holder. If you accidentally drop the spray, the retractable mechanism will return it to its original place. The string can be extended up to the length of 95 cm.
Insert the bottom of the locked Hurricane spray into the elastic part of the holder using appropriate force until the spray is fixed. The holder is not designed for frequent removals of the spray but in the case of need, it is possible to remove the spray can from the holder using appropriate force. It is also possible to use the holder with sprays of different brands with the can diameter of 22 mm.
HURRICANE spray is not included in the package.