Tactical gun sling – two-point, with bungee | WS-01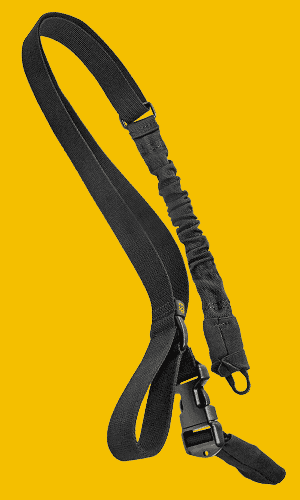 On stock
two-point tactical gun sling ● width 30 mm ● supple material doesn't limit you during carrying ● 20-cm long bungee (flexible strap) is located at one end of the gun sling ● movable loop allows for swift adjustment of the gun sling from 104 to 156 cm ● two metal snap-hooks with a nylon cover ● emergency plastic clip for quick unfastening of the weapon ● black color
Price / 1 pc in this shop:
€ 23,05 VAT included
Price / 1 pc if you buy at least 2 pcs (discount 9%):
€ 20,98 VAT included
This two-point tactical gun sling facilitates comfortable carrying of a long weapon. Your weapon is ready for immediate use while your hands remain freed for other activities.
The gun sling does not take up too much space on your gear thanks to its advantageous width of only 30 mm. The sling's material is sufficiently supple so as not to limit you during prolonged carrying.
A 20-cm long flexible strap (called bungee) is located at one end of the gun sling. The bungee strap allows for quicker handling of the weapon even in full gear. The bungee strap lowers the risk of collision when swinging the weapon into a shooting position and enables the user to quickly perform this crucial movement even when the sling is tightly fastened. The flexible bungee cords are placed inside a protective nylon cover.
A movable loop allows for swift adjustment of the gun sling into optimum length for the specific shooter (from 104 to 156 cm). The gun sling's length can be changed according to current requirements of the gear or situation – even when the sling is already in position on the shooter's body.
The weapon is attached with two metal snap-hooks. The hooks have a nylon cover which absorbs their clicking against the weapon and thus protects it from damage. An emergency plastic clip for quick unfastening of the weapon is placed at easy reach in the front part of the gun sling.
Sling color: black.
Total sling length 104–156 cm (depending on the setting)