Head-Shaped Boxing Pad | TEH-01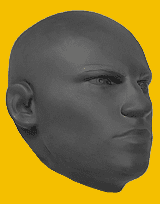 ideal accessory for self-defense training and the training of various combat sports ● very realistically simulates a human head ● the training resembles reality as closely as possible and is much more effective ● serves for the training of hits and kicks as well as defense techniques with attacks to the eyes, the nose, the mouth or the ears
ergonomic holder inside the boxing pad very effectively dampens the strikes ● hand holding the pad is perfectly protected from any injury ● produced from highly durable material with rubber surface ● dark gray color
| | |
| --- | --- |
| Price / 1 pc in this shop: | € 66,95 VAT included |
| Price / 1 pc if you buy at least 2 pcs (discount 9%): | € 60,93 VAT included |
Product is not available.
This boxing pad is an ideal accessory for self-defense training and the training of various combat sports (such as kickboxing or Taekwondo). The boxing pad very realistically simulates a human head with all its details. The training of model situations thus resembles reality as closely as possible and is therefore much more effective. This boxing pad can serve for the training of hits and kicks as well as defense techniques with attacks to the eyes, the nose, the mouth or the ears.
There is an ergonomic holder inside the boxing pad which can be used to hold it. This solution very effectively dampens the strikes to the boxing pad and the hand holding it is perfectly protected from any impact. At the same time, it also enables the self-defence coach to be in maximum control of all the training exercises.
The head-shaped boxing pad is produced from highly durable material with rubber surface in dark gray color. It is sufficiently soft to prevent any injury during even rigorous training. The striking techniques can be practiced in boxing gloves as well as without them.
Dimensions: 215 × 255 × 245 mm (width × height × thickness). Weight 1 440 g.