Mirror for expandable baton (⌀ 92 mm) + nylon holder | BM-03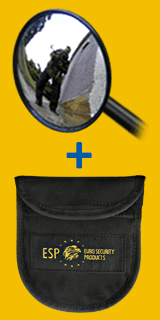 On stock
Expandable batons can be fitted with additional tactical mirror. This mirror will enable you for example to determine presence of an aggressor behind the corner or in the room to be entered, The mirror is equipped with a clip for easy fitting on the baton.

Diameter of reflective surface is 92 mm.

Nylon holder BMH-03, which is already included in the price, protects the mirror against damage and enables its wearing on the belt.
Price / 1 pc in this shop:
€ 20,00 VAT included
Price / 1 pc if you buy at least 2 pcs (discount 9%):
€ 18,20 VAT included