Training ESP Rescue Knife | TRK-01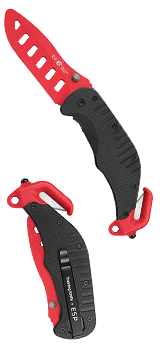 On stock
dummy version of the ESP Service and Rescue Knife ● approximately the same weight and balance as at the real ESP Knife ● rounded edges and the absence of a blade ensure realistic and safe training ● bright red blade color for immediately recognition from the real knife ● liner lock type safeguard
ergonomic handle from resistant PA66 polyamide is completely identical to the real ESP Rescue Knife ● innovative solution of the metal clip (protected by a European Community Design) ● suitable both for right-handed and left-handed users ● can be attached to the gear thanks to a handy ring ● the multipurpose cutter on the knife's handle can easily cut car seat belts, clothing and ESP textile handcuffs
Price / 1 pc in this shop:
€ 38,71 VAT included
Price / 1 pc if you buy at least 2 pcs (discount 9%):
€ 35,23 VAT included
This training knife is a dummy version of the ESP Service and Rescue Knife. It is meant for training of safe drawing of the knife as well as various self-defense moves and techniques. Thanks to the used material and the shape of the blade with several cutouts this training tool has approximately the same weight and balance as the real knife.
Rounded edges, the absence of a blade and a sufficient blade width ensure knife training that is as realistic as possible while also being completely safe. The bright red blade color also allows you to immediately recognize whether this is the training tool or the actual rescue knife. Blade of the knife is secured in open position by liner lock type safeguard.
Handle and the metal clip
This training knife's handle is completely identical to the real ESP Rescue Knife. It is made from resistant PA66 polyamide, ensuring it can truly withstand a lot. Its ergonomic shape fits nicely into the palm and is suitable both for right-handed and left-handed users. The fine pattern on the handle's surface prevents the knife from slipping out of hand even during rigorous training.
The knife presents an innovative solution of the metal clip, which is partially embedded in the handle and does not form a protrusion. The knife's unique construction is protected by a European Community Design.
Multipurpose cutter
This knife is not useful only in training but in everyday life as well. It contains a functional multipurpose cutter, which can easily cut car seat belts, clothing when administering first aid as well as ESP textile handcuffs. Thanks to its specially designed shape, the cutter can be easily inserted beneath the clothes. Its embedded blade minimizes the risk of injury during training as well as when using the cutter.
On the TRK-01 training knife you will not find the glass breaker, which is a useful part of the ESP Rescue Knife. The handle is ended with a rounded black protrusion. This perfectly imitates a real glass-breaking tip while maintaining maximum safety during training.
The knife can be attached to the gear or to a key chain thanks to a handy ring. To protect the knife from damage, you can buy nylon holder RKH-01 or leather holder RKHL-01.
Technical specification
Length of the open knife: 216 mm
Blade length: 95 mm (from the rounded "tip" to the handle: 84 mm)
Length of the handle (closed knife): 133 mm
Blade width: 3 mm
Handle width: 13 mm (including the metal clip: 16–18 mm)